Chalk House
Chalk House
Chalk House is a serious game focused on improving student literacy skills.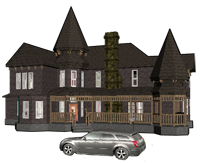 This run-down mansion was once ancient home of wealthy pioneers, now known to locals as Chalk House. Students take on the role of a young reporter assigned to investigate the disappearance of the last living member of the Forrester family who was last seen entering this haunted place. The old house has a history waiting to be discovered.
Chalk House is the first in a series of situated learning modules being developed by CRG in which game play and engaging narrative are designed to engage students in increased reading time and additional writing requirements.
The Situation
You have recently arrived by train at the Farewell Telegraph after having been a junior reporter in a sparsely populated Midwest town. Your past reports had caught the eye of the Editor-in-Chief at the Telegraph and you took the job here after your old newspaper shut down because of mismanagement and general collapse of the town. Now that you have arrived at Farewell, the paper wants you to prove yourself by investigating the disappearance of Rebekkah Forrester and her six-year old son Caleb. The managing editor and Rebekkah had been friends in high school and she is worried that something terrible happened after they entered the Forresterís old family home over a month earlier to clean it out before it was sold. The sheriff is too old to look into it, so he keeps making excuses. The pair were last seen entering the house, but have not come into town for supplies and Rebekkah missed a lunch date with the Editor. While the place is officially "Forrester Mansion," the locals in town have always called it Chalk House because of the strange color of the building which is the color of old gray bones. Strange sounds have been heard coming from the building, odd lights on the grounds, and an old cemetery outside add to its reputation as a place of darkness. Rumors of disappearances and insane cousins and children of the Forresters for more than a hundred years keep all but the bravest children from sneaking onto the grounds under the cover of moonlight. But, hey, you are a seasoned reporter with a mysterious past, so what do you need to be afraid of?
Chalk House Movie - Introduction

Download QT Movie (122.4 MB)
Chalk House Client Specification
PC Minimum Requirements

Windows XP - Pentium® IV or greater
1G RAM
128 MB OpenGL v1.1 compliant video card (i.e. ATI Radeon or Nvidia GeForce 2 or greater)
Internet connection (28kbps of faster)
100 MB+ hard drive space
Audio Card that supports Speakers and Microphone
Java 1.6 or later.

---

MAC Minimum Requirements

Mac OSX 10.4 +, Intel or PowerPC based
1G RAM
128 MB OpenGL v1.1 compliant video card (i.e. ATI Radeon or Nvidia GeForce 2 or greater)
Internet connection (28kbps of faster)
100 MB+ hard drive space
Java 1.6 or later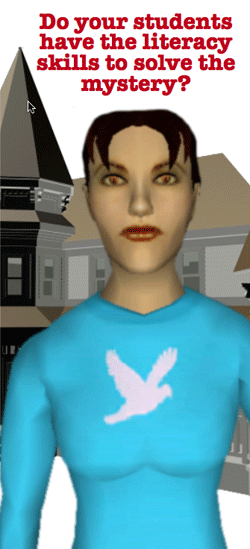 Learning Tasks/Game Tasks Ė One in the same
Chalk House overlays learning tasks on top of game tasks such that students completing tasks in the environment are focused on formal learning requirements. This is accomplished by breaking the interaction into different levels that initially frame the learnerís entire task, then drop down to build from low to highly cognitively challenging tasks. At the Top Level, the Chapter is the overall local story and problem (from Problem Based Learning) that the learner will be dealing with and attempts to narrate, solve, and move through linearly in order to complete the required news stories. The next level, the Investigation level, the student is tasked with gathering the information necessary for the Chapter. Each Investigation level has a number of completetion tasks (lowest level), that has the student write, read, or develop other requirements necessary for building formal literacy competencies.
General Literacy
Technological tools for aiding students with writing have become prevalent since the boom of computers in schools starting in the mid-1990s. Microsoft Word™ is used by many teachers for publication of final student writing products as well as for its spelling, grammar checking, and thesaurus features that act as learning affordances to target writing skills. Technology for writing has also shown improved attitudes toward completing writing tasks (Beck & Fetherston, 2003). Studies into the use of hypertext as a tool for increasing student interaction with text have found that the use of hypertext improves student writing in science and social studies as a result of providing improved resources for writing workshop-style writing processes (Chatel, 2003). Chalk House combines the advantages of hypertext, existing use of word processors, and motivating power of 3D environments. It leverages pedagogical/intelligent agents (Baylor, 1999; Baylor & Kim, 2005) to provide students with a safe, engaging learning space within which to practice writing and develop their reading skills.
English as a Second Language (ESL, EFL, and ELL)
The theory of computer-assisted language learning (CALL) focuses on using the audio-visual, tactile, and interaction affordances of computers to improve student acquisition of second and foreign languages (Egbert & Hanson-Smith, 1999). Traditionally users of stand-alone computer programs, ESL teachers are increasingly using online learning environments to improve language learning. Chalk House allows second language speakers the opportunity to clarify questions about idiom, grammar and spelling rules. They may also discuss cultural issues relevant to learning a foreign language from a peer or instructor.
No Child Left Behind (NCLB)
Under the No Child Left Behind Act (Education, 2002), students are held accountable through standardized testing that focuses on their ability to read and write effectively. Within Chalk House, student activity ties directly to Texas, Indiana, and MCREL standards, as well as technology skills from the ISTE NETS-S standards (ISTE, 2007). Feedback, according to rubrics, helps students improve their writing skills. They take tests and quizzes in the system as part of the role-play experience. These assessments examine the degree of recall and comprehension achieved as part of their reading activity in the 3D learning environment. .
In this way, it is believed that young students are provided with a rich inquiry experience that can meet state standards for improving writing, while concurrently offering learners the opportunities for critical thinking and creativity. Chalk House is an attempt to meet these needs within self-directed learning experiences that are engaging while at the same time addressing some of the criticisms of the use of problem-based learning approaches to instruction and learning with young children in the era of No Child Left Behind assessments and accountability.
Classroom Use
Within the Chalk House, students will write using a step writing process for writing essays in response to prompts (Cunningham, Cunningham, & Allington, 2002). Specifically students will use a six step process that includes the following steps: 1.) prewriting, 2.) rough draft, 3.) peer editing, 4.) revision, 5.) teacher editing, and 6.) publication. Several versions of the six step process for creating a written piece have been in vogue in the United States for at least a decade and are supported as part of improving student writing skills under the NCLB. By participating in this process, it is expected that students will produce pieces of writing that are superior to those that employ a more organic, emergent perspective of writing while they are given a simple structure to follow that includes opportunities for feedback and revision. One study on the use of six step writing processes have shown improvements in the quality of student writing which includes a reduction in grammar errors, improved standardness of language use, and improved internal structure (Englert, Manalo, & Zhao, 2004). Other studies have correlated the step writing process with improvements for students with reading and writing disabilities by allowing them to compose coherent responses because the process provides a structure to follow, feedback on each step, and opportunities for revision (Cunningham, Cunningham, & Allington, 2002; Diliberto, 2004; Fink-Chorzempa, Graham, & Harris, 2003). When combined with the use of computers for typing their responses, research has also found that students produce longer responses to prompts, edit and revise as they write, and engage in a more social process of writing with peers than with pen and paper (Cramer & Smith, 2001).
Research Based - Focused on Writing
The current version of Chalk House is focused on students who commonly resist traditional writing activities in the classroom (Goldberg, Russell, & Cook, 2003; Marshall, 2002). The game leverages the genres of mystery and ghost stories as part of its attempt to match with student interest. Based on the results of recent studies by Barab et al. (2006) and Warren (2006) the narrative qualities of video games and learning environments with game-like properties can be used motivate learners as a means of increasing standardized test scores. Results of a science-based curriculum framed presented within a digital narrative learning environment showed statistically significant increases in pre-post learning gains when students were tested on standardized test items from the state of Indiana (F(1, 23) = 39.73, p < .001) (Barab, Sadler, Heiselt, Hickey, & Zuiker, 2006). In another study, Warren (2006) compared standardized writing outcomes between two 5th grade classes, one engaged in more traditional school curriculum and one taking part in an equivalent curriculum set in a 3D environment. Both curricula focused on the same process writing skills, a statistically significant increase in pre-post learning gains was identified for both classes; however, the class using the digital game-based curriculum showed significantly more improvement (F(1, 40) = 4.32, p < .05) than the class using the traditional curriculum. Chalk House follows in the footsteps of these findings, by employing instructional methods that combine strong narrative, game-like qualities, and relevant learning activities in a forum for learning that attempts to encourage critical thinking, creativity, and self-direction. Research related to Chalk House will focus on student reading comprehension, recall, and formal writing skills, expanding on Barab et al.ís (2006) work by develop on this idea of using narrative to foster gains in academic skills and knowledge.
---
References
Baylor, A. (1999). Intelligent agents as cognitive tools. Educational Technology, 39(2), 36-40.
Baylor, A., & Kim, Y. (2005). Simulating instructional roles through pedagogical agents. International Journal of Artificial Intelligence in Education, 15(1).
Barab, S. A., Sadler, T. D., Heiselt, C., Hickey, D., & Zuiker, S. (2006). Relating narrative, inquiry, and inscriptions: A framework for socio-scientific inquiry. Paper presented at the Annual Meeting of the American Educational Research Association, San Francisco, CA.
Barab, S. A., Zuiker, S., Warren, S., Hickey, D., Arici, A., Ingram-Goble, A., et al. (Submitted for review). Developing a Theory of Formalisms: Situating Socio-Scientific Inquiry for Schools. Paper under development., 56.
Beck, N., & Fetherston, T. (2003). The effects of incorporating a word processor into a year three writing program. Information Technology in Child Educatoion Annual, 139-161.
Chatel, R. G. (2003). Developing literacy in the technological age: Expanding the boundaries of reader-text interactions. New England Reading Association Journal, 39(2).
Cramer, S., & Smith, A. (2001). Technology's impact on student writing at the middle school level. Journal of Instructional Psychology, 29(1), 3-14.
Cunningham, P. M., Cunningham, J. W., & Allington, R. L. (2002). Research on the components of a comprehensive reading and writing instructional program. Clemmons, NC: Four Blocks Literacy Model.
Diliberto, J. A. (2004). Improving descriptive sentence writing in elementary students. Preventing Schools Failure, 49(4), 34-38.
U. S. Dept of Education. (2002). Strategic Plan, 2002-2007. Retrieved March 10, 2004, from http://www.ed.gov/about/reports/strat/plan2002-07/index.html
Egbert, J., & Hanson-Smith, E. (Eds.). (1999). CALL environments: Research, practice, and critical issues. Alexandria, VA: Teachers of English to Speakers of Other Languages, Inc.
Englert, C. S., Manalo, M., & Zhao, Y. (2004). I can do it better on the computer: The effects of technology-enabled scaffolding on young writers' composition. Journal of Special Education Technology, 19(1), 5-21.
Fink-Chorzempa, B., Graham, S., & Harris, K. (2003). What Can I Do to Help Young Children Who Struggle With Writing?. Teaching Exceptional Children, 37(5), 64-68.
ISTE. (2007). isteNETS. Retrieved June 18, 2007, from http://cnets.iste.org/
Tuzun, H. (2004). Motivating learners in educational computer games. Unpublished Dissertation, Indiana University, Bloomington, IN.
Vilmi, R. (1999). CALL issues: Language learning over distance. In J. Egbert & E. Hanson-Smith (Eds.), CALL environments: Research, practice, and critical issues (pp. 427-441). Alexandria, VA: Teachers of English to Speakers of Other Languages, Inc.
Warren, S. J. (2006). The Impact of a Multi-user Virtual Environment (MUVE) Teacher Instructional Time, Voluntary Student Writing Practice, and Student Writing Achievement Unpublished Dissertation, Indiana University-Bloomington, Bloomington, Indiana.