Mars OnLine using CRG VXInteractive™
One of the missions of CRG is to use 3D online learning environments to support next generation educational systems/tools. The CRG MARS on-line project allowed student/teachers/researchers to access information that represents real data collected about the planet Mars. Using the CRG VXInteractive™ client, users can tour the face of Mars on-line.
The project takes data made available from NASA generated by the Mars Orbiter Laser Altimeter (MOLA), an instrument aboard NASA's Mars Global Surveyor (MGS). Mars Global Surveyor began orbiting the red planet on September 12, 1997. The MOLA data being used by the CRG Mars On-line project provides some 1 billion elevation measurements gathered between 1998 and 2001 by NASA. The MOLA instrument was designed and built by the Laser Remote Sensing Branch of the Laboratory for Terrestrial Physics at Goddard. MOLA has not collected altimeter data since June 30, 2001, when the instrument's oscillator stopped. An article entitled "Mars Orbiter Laser Altimeter: Experiment summary after the first year of global mapping of Mars" can be found here.


Panorama Olympus Mons, Top Cone (MARS_19.0_227.0).
The Mars on-line project operated between January 2003 and July 2008. It was taken off line when the CRG V3 client was removed from support. If there is interest in the project in the future, the system could be brought back up and made available in the current CRG client.
CRG Mars On-Line Project Details
Portals
253,440 contiguous portals
(352 portals NS x 720 portals EW)
Compressed Portal Record sent from Server to Client
Variable 2k-8k bytes
Size of Portal Object Created from Compressed Record
220K bytes
Portal Size Representations
Single Portal: 29.632 square km
Displays 8 x 8 portals
Maximum Visible Distance
88.896 km
Portal Coverage of Mars
97.777% of Mars
Visual Scaling
1:463m horizontal, 1:100m vertical
(Server defined and changeable)
Travel Speed
Approx 2700kph
Polygons Per Portal
High-Res: 8192 Polygons
Low-Res: 4096 Polygons
Number of Visible Portals
High-Res: 9 portals
Low-Res: 16 portals
Total Visible: 25 portals
Database
12 million group links entries
6 million portal connections
Number of Mapped US Geological Survey Features
Over 1400 features included in on-line bookmark system.
PC Operational Information
GeForce2, PIII, 800Mhz, APG 2x
73737 Polygons at 23FPS
GeForce4, PIV, 2GHz, APG 4x
73737 Polygons at 61FPS
Total Number of Supported Users on Single Server Configuration
150 Users
| | |
| --- | --- |
| Number of Points in Data Set | 1 billion |
| Raw Size of Data Set | 2 gigabytes |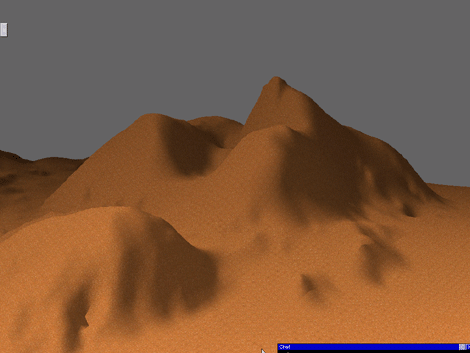 Nicholson crater central peaks (MARS_0.5_195.0).